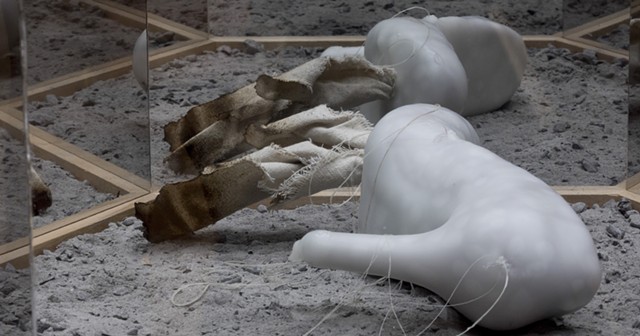 Revolutionary Implements: Molotov Cocktails
Shoes, microcrystalline wax, canvas, ash, two-way mirror, wood, lighting.
68"x30"x30"
2018
The Scene (Houston: 1969-1981)
Devin Borden Gallery
April 6 - May 12, 2018
A body of work focused on the importance and political effect of Houston's storied drag scene between the years of the Stonewall Riots and the beginnings of the AIDS crisis.
Based on images and narratives found in collaboration with Houston photographers, archivists, community members, GCAM (the Gulf Coast Archive and Museum for Gay and Lesbian History) and University of Houston Libraries Special Collections, The Scene provides a glimpse into Houston's diverse and thriving drag scene in 1970s and early 80s. Reflecting on the city's historic and underappreciated role as a destination and refuge for LGBTQ citizens in the Gulf Coast region The Scene celebrates the importance of Houston's drag community in the LGBT rights movement.
Performance Lecture:
Devin Borden Gallery
May 12 4pm
Free
Created in conjunction with The Scene, A Landing in the Bayou is a multi-media artist lecture based on interviews with drag queens, activists, and community members who experienced the Houston drag scene in the years between Stonewall and the beginning of the AIDS crisis including Hot Chocolate, Tasha Kohl, Kelly Lauren, Ray Hill, and Mary Hooper.
The Scene (Houston 1969-1981) premiered at Houston Community College Southeast's Wedge Space in October, 2017, and was exhibited simultaneously at the gay bar Tony's Corner Pocket and the University of Houston MD Anderson Library in February, 2018. The Scene is funded in part by the City of Houston through Houston Arts Alliance, is made possible with support from Brooklyn's Invisible Dog Art Center and was created with assistance from GCAM, the Gulf Coast Archive and Museum for Gay and Lesbian History. A Landing in the Bayou is made possible with the support from The Idea Fund. The Idea Fund is a re-granting program administered by DiverseWorks, Aurora Picture Show, and Project Row Houses and funded by the Andy Warhol Foundation for the Visual Arts.